How To Program a Garage Door Opener Remote To An Existing System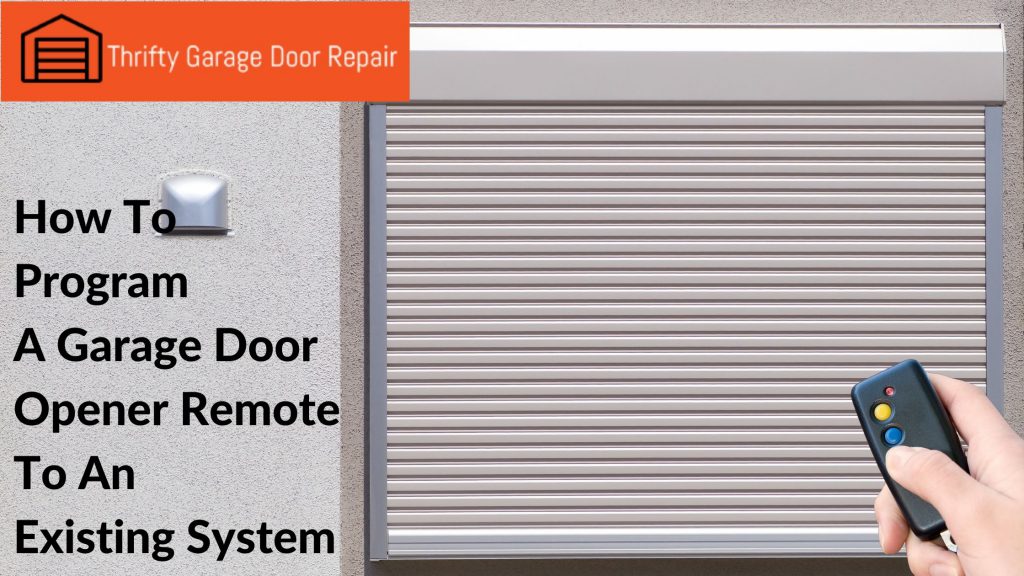 Did you know that most garage door openers come with a remote? If not, it's easy to program the remote to your existing system. This blog post written by technicians from our expert garage door repair company will walk you through the process of connecting your new remote to an old opener for quick and easy access!
Programming any remote with your garage door opener
The first step is finding out what frequency your opener uses. Check the back of the device or on our website for this information. The next step is programming all four codes from your original remote into this new one by holding down each button until they light up. Once done, press "Lift" and then "Open/Close." You're now good to go! 
If you've recently had one of the most popular garage door opener brands installed in your home, and are looking to program or replace any lost remotes (maybe from recent theft?), then we have everything that you need right here!
6 Steps to Program Your Overhead Door Opener Remote
If you want to program or reprogram your garage door opener remote, follow these six simple steps.
1. Use a flathead screwdriver to press the release button on the side of the door opener's control box. Remove the battery cover and insert two AA batteries (not included.) Make sure they are inserted correctly: negative end toward the back of
2. Find your remote by searching through each device until you find it numbered "4."
3. Press and hold down the "set" button on your remote for 10 seconds until a green light signals it is paired to the opener. If you do not see or hear a green light, repeat step # 3 until you have successfully paired your remote to your door opener.
4. Test your new remote by pressing the "open" or "close" button.
5. To remove your remote, press and hold down the "set" button while you replace the battery cover. By pressing set in this way, it will not pair with your door opener again until you perform step #1 to release the current remote from your control box.
6. Now you are all set to open and close your door with your new remote. Remember to keep your old remote in a safe place as you will be able to use it if the batteries in the new one wear out or you lose it.
The garage door opener remote control is designed to be easy and reliable. If you have trouble programming your remotes, it could mean that the problem lies with an issue other than just the remote.
Garage door remotes are the key to your house and you should make sure it is working properly. If not, contact a professional garage opener installer in town!
Thrifty Garage Door Repair is here to ensure that your garage door works properly and is always safe. Contact us for a service visit or repair and we'll get it done right away!
Our garage company offers local garage door repair in Vancouver and surrounding areas. Call us today at 604-901-7676 for your garage door needs.