How To Prepare And Paint A Rusty Garage Door?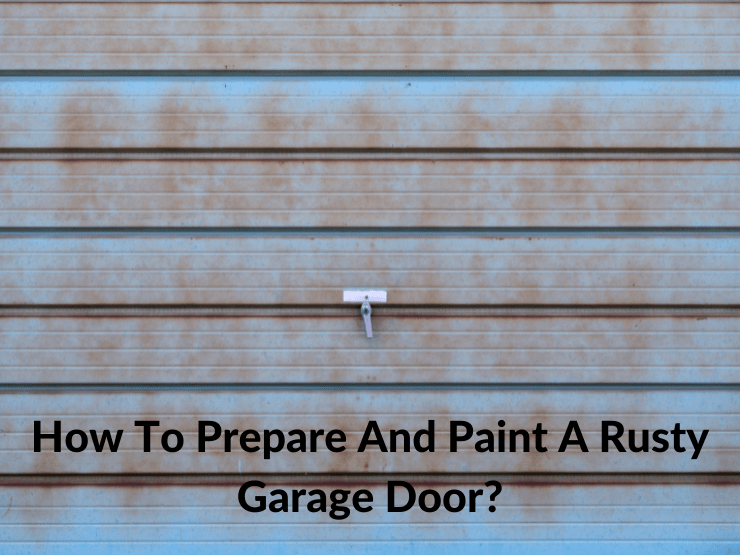 Is your garage door developing dark brown spots and having a mottled appearance? Then, in all probabilities, it is rusting. This metal corrosion calls for a garage door service at once.
Garage door rust is one of the common garage issues that crop up with metal doors.
Metal garage doors are prone to rust if exposed to moisture during extreme temperatures of rainy or snowy weather. This rust coating not only affects the curb appeal but also the structural integrity of the garage door. That is why rust on a garage door must never be ignored.
What to do then? Grab a paintbrush and cover your garage door with loads of paint? that will simply not do. Applying coats of paint on an unprepared garage door is just a wasteful exercise. You will be wasting both your time and the paint. What you need to do is prepare your rusty door before you paint it by following these simple steps.
Preparing a rusty metal garage door for painting
To prepare your rusting door for painting, first, arm yourself with a wire brush, medium-grit sandpaper for scraping, and an oil degreaser. you can start by cleaning the door surface with dish soap and warm water. Rub vigorously with soapy water to remove the dirt and grime from the door. Add a dash of white vinegar to remove the salt and limescale deposits if you are living in a coastal region.
This process of degreasing, scraping, milling, and sanding is a must before you even start the paintwork. Remove all the dirt, oil deposits, rust flakes, limescale, and even old paint flakes from the door. It is best to engage a garage door repair professional for this job as they have both the expertise and tools for the job. Sometimes, if the scale deposits are tough, you might need an electric sander which only garage door technicians usually possess.
Priming the garage door for painting
Now that you have cleaned and degreased your rusted metal garage door, the next thing to do is to prime it. The objective of using a primer is to allow the paint to penetrate the metal surface deeply.
There are different types of metal primers to choose from- oil-based primer, damp-proof primer, rust-inhibiting primer, cold galvanize zinc primer, etc. Using an oil-based primer directly on the door prevents corrosion. If you want a damp-proof primer, go for Rust-Oleum 769 Damp-Proof Primer.
Rust-Oleum 769 Damp-Proof Primer needs very little prep work and it goes right into the metal surface, cutting across all the rust.
When you have zinc-galvanized doors, the zinc wears off with time and the metal underneath shows through with rust. Then, it is time for you to use a Cold Galvanize Zinc Primer to reapply the zinc layer.
If you see a thick layer of rust on the door, it is time to use the phosphoric acid treatment primer.
Painting the rusted garage door
After cleaning, sanding, and priming, you can now start painting your door with your favourite choice of colour. Arm yourself with a paint sprayer and a can of garage door paint.
There are different types of garage door paints- latex, epoxy, and acrylic paints. Acrylic latex or oil-based exterior paints are also best for metal garage doors.
Your choice of paint colour will be available in all these variants. You can also choose the type of paint finish you want for your door- matte, gloss, or semi-gloss.
The ideal temperature for painting a garage door
Not many of us know this but garage doors must be ideally painted at a certain outdoor temperature. this temperature varies depending upon the type of garage paint you use. Oil-based paints must be used at 45 degrees Fahrenheit temperature. Acrylic or latex paints must be painted at temperatures above 50 degrees Fahrenheit. Temperatures cannot be above 90 degrees Fahrenheit for water-based paints or 85 degrees for oil-based ones.
Windy or rainy days are also not suitable for painting garage doors. Also, leave a gap of 24 hours between successive coats of paint.
Corrosion is a common problem for garage doors. Preparing and painting the garage door once a year can help you maintain its long life and get rid of rust spots. Hire garage door repair specialists from Thrifty Garage Door to care for your rusty garage door and watch them hand it to you in factory finish.
Call us at 604-901-7676, the responsive customer service team at Thrifty Garage Door Repair Vancouver today!