How to Manually Open and Close Your Automatic Garage Door After a Power Outage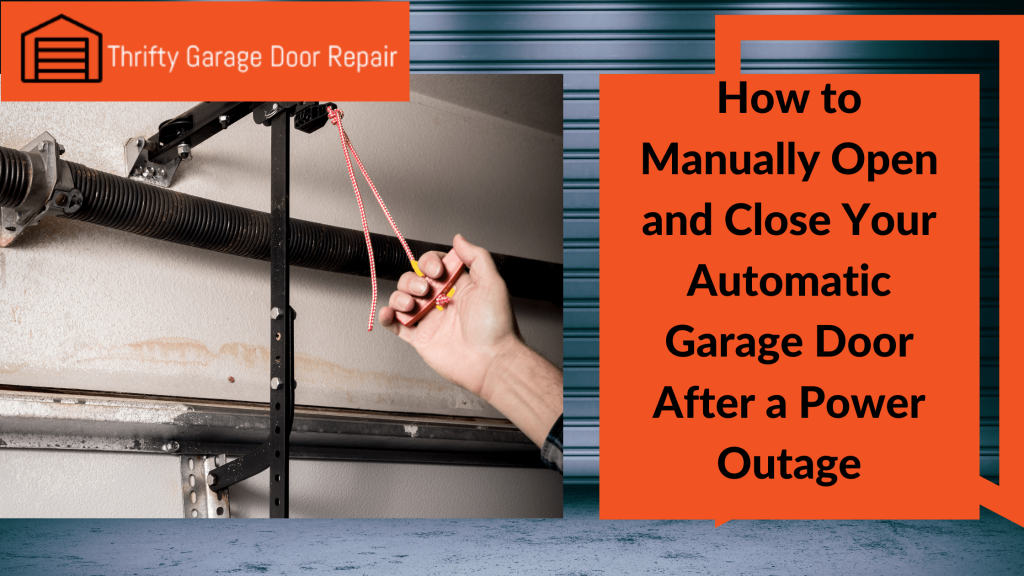 Homeowners may use the emergency release cord on their garage door for any number of reasons. Professionals from our reliable garage door repair agency will now give a how-to on releasing the emergency cord manually.
What are some of the reasons you might need to use your emergency release cord? It could be anything from power outages, sensors not detecting an obstruction when there is one, or even if something gets stuck in the door.
The emergency release cord on your garage door is like a safety net that will help to prevent any unwanted accidents from happening.
The emergency release cord should be used for many different reasons, one of which could be a power outage and the other obstruction detection error.
In the event of a power outage in your home, an immediate loss of power will be experienced by all electrical systems. If the garage door opener was recently running, one obstacle may be that the motor which operates it can seize up and prevent movement. This seizing up of the entire system is caused by a loss of power, so the door on your garage can remain stationary. In this situation, you'll need to release it manually and remove whatever is stopping it from moving.
If this obstruction error occurs when there has been no loss of power, the sensors located near the tracks may have detected an obstacle that they cannot move around or over. Due to this obstruction, the door will try to move down by itself but block any movement. It is when the emergency release cord can be utilized manually, to lower your door and remove whatever is obstructing it from moving. The manual release of the garage door should only be used in select situations. If you have an obstruction error because of a power outage, the door can be manually lowered and removed. If this occurs when there has been no power outage, then the emergency release cord should not be used, due to safety reasons.
Steps to release your garage door manually:
When the power goes out, it is important to release the garage door manually

If you have a manual opener, or if your automatic opener has a manual release switch on it, then follow these steps

First, open the door completely by hand and let go of both handles

Next, pull up on one handle while holding down the other until you hear a click sound

Repeat step 4 with the opposite side of your garage door until you hear another click sound

Finally, close your garage door by pulling down on both handles simultaneously for about 10 seconds each time (until they are fully closed)

Repeat steps 1-5 in reverse order for reassembly.
The emergency cords are installed by experts in your home or business, as a preventative measure. This way, if you ever experience an obstruction error or a loss of power, the door will be able to move and won't allow anyone to get trapped inside.
After a manual release of the garage door, call an expert technician to reattach your garage door if you find trouble in repositioning it. Thrifty Garage Door Repair can help you fix your manually released garage doors. We repair, install and replace garage doors in the Vancouver BC area. Reach out to us today or call 604-901-7676.