Two Single Garage Doors VS One Double Garage Door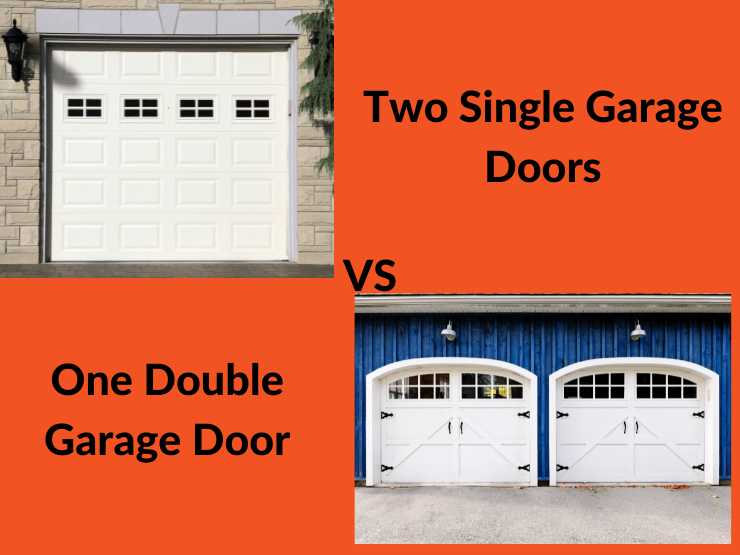 When you think of setting up a new garage or renovating an exciting one, there are many choices you must make. One of these is whether to opt for single doors or double doors. You can even think of triple garage doors if you want to think out-of-the-box. But conventionally, most people settle between using  1 or 2 doors for their garage.
How to make this difficult choice? Does it depend on the garage space, garage door size, or the type of garage door?  One should probably factor in the style of the garage door too. And do not forget the garage door repair and installation cost and your budget. The list seems to be long and confusing.
Let us try to help you make the right decision by listing the pros and cons of single and double garage doors.
Two Single garage doors vs. One double door- a comparison
Aesthetic choice
When you opt for 2 single doors, your garage looks more balanced outwardly. The symmetrical look of the 2 individual doors enhances the aesthetic appeal of the garage.
No need for custom garage doors
However wide or tall your garage's opening might be, you can find 2 doors to fill the gap. On the other hand, if you want one double-size door to fit this space, you have to order a custom-sized garage door and that would mean extra costs. Why go to all this trouble?- get twin garage doors and relax in peace.
Reduce air conditioning costs and energy bills
Having 2 single doors helps you control the extent to which your garage is exposed to the outside weather.
If you have one double door, you might have to keep it open fully, reducing the energy efficiency of the door. this will only hike up your energy bills. 
But with 2 single doors, you can keep the garage partially open. This will control the airflow into the garage and reduce the changes in the ambient temperature.
This will keep the humidity out and help you save on air-conditioning bills in hot climates. Conversely, you can save on your heating bills during cold weather when you have 2 doors.
Ready alternative
When you have 2 doors, you can use one even if the other becomes faulty. But if you have a huge double-sized door and it malfunctions, you are stuck.
Easy access
When you have 2 single doors, children and elders find it easy to access and use the door. A double door is too bulky to handle by aged people or adults with mobility issues.
Extra space
When you use a double door, it takes up less space on the inside of the garage. This extra space can be used as storage space by fixing extra shelves. But this is not possible when you have 2 single doors. Single doors occupy more space on the inside.
The large space offered by the double door on the interior of the garage makes it an excellent choice for families with kids to get in and out of the vehicles. 
Larger Vehicle or Many vehicles
If you have a large vehicle, it is better to opt for a double-size garage door.  
A double door ideally is 18 feet wide and can accommodate 2 vehicles or one large vehicle on the inside. It is easier to manoeuver 2 or 3 cars for parking when you have a 16-20 feet wide double door.
Garage door style
If you are a fan of carriage house garage doors, you must opt for only 2 single doors. This style of a garage door cannot be implemented with a double door.
Garage door opener
With a double door, you have only one garage door opener to worry about.  
Canadian laws enforce that for all garages installed after 1993, each door must have a garage door opener with a safety sensor.  So, if you have 2 single garage doors, you must install 2 openers and sensors. If you think of using a tandem garage opener for operating both doors at the time, drop the idea as the tandem opener will not match the safety standards.
Garage door cost
This is one major drawback when you opt for 2 single doors. The more the doors, the more are the costs in purchasing them. So, a double door needs a single installation cost while 2 single doors cost double the amount.
The same logic applies to every garage cost you incur including garage door replacement costs and garage door maintenance costs.
 Use all the above pointers when you weigh the garage door options of 2 single 9ft. garage doors versus a double 16ft one.
Make the right decision by consulting an expert from a Garage Door Repair company like Thrifty Garage Door Repair Vancouver company. Contact us today!