How to properly maintain your garage door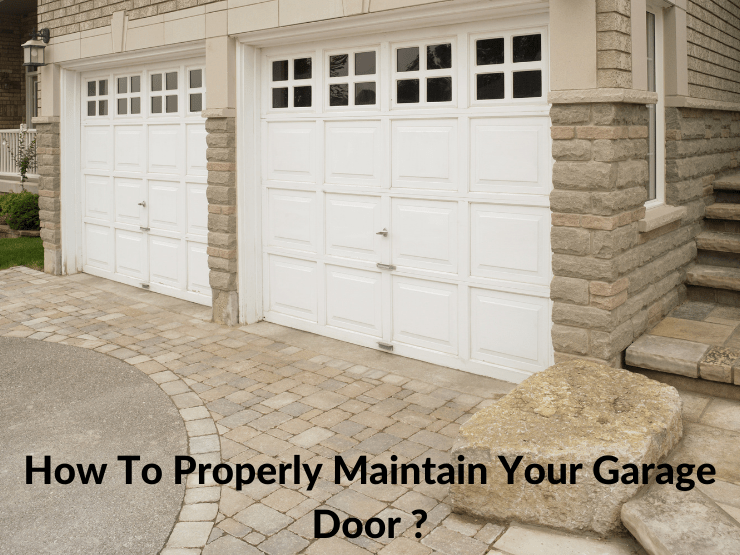 The day has come. It has dawned on you that you have to do some garage door maintenance. You deliberate on doing it yourself or calling a professional garage door repair technician Vancouver. You want to try your hand at some simple and routine maintenance for your door. 
Here are some pointers to help you perform a simple garage door tune-up by yourself. We would like to caution you that proper maintenance of your door needs the skill and expertise of a qualified garage expert.  It also needs to be done with great care so as to prevent any garage door accidents or injury. You need special tools to handle the maintenance which might not be readily available at home. For all the above reasons, it is wise to call a reliable garage door company to do regular maintenance. 
If you want to still do the maintenance yourself, start by taking these basic steps for your safety.
Safety precautions to take before you do your garage door maintenance
Disconnect the power supply before you start your maintenance tasks.
Unplug your garage door opener to prevent it from getting activated while you work.
If you want to keep the door open and work, lock the garage door track with locking pliers below the rollers using a clamp This will prevent the track from dropping or falling.
If you want to lift a cable., you have to first release the spring tension from the garage door springs. Do not attempt to do it yourself as this sudden release might cut your fingers. This requires the meticulous handiwork of an experienced garage professional.
Simple Steps to perform proper maintenance of your garage door.
Garage door inspection
Before you start, make a thorough check of all the garage door parts like the garage door rollers, springs, tracks, hinges, etc. 
See if any of the parts are loose or extremely tight and make a note of it. Next, check the following before you start doing any maintenance work yourself.
Call a garage door professional at once if these occur
Place a block or piece of wood on the garage door path. Operate the door and see if the door reverses by itself on meeting the woodblock. If the auto-reverse feature does not work, you have to call the garage door company at once.
Check the balance of your door. Disconnect the automatic opener and lift the door manually half up. If it does not come fully down or stops midway, call the garage technician immediately.
Check the alignment of the base photosensors of the garage door. Adjust them, operate the door,  and position an object on the path of the sensor. If the door does not reverse on sensing the object,  do not delay in calling the garage door services company.
In all the above instances, we suggest you call a garage professional only for your safety.
Cleaning, lubrication and tightening of garage  door hardware
Before you start, take a dry cloth and dust the tracks, cables, rollers, etc. If regular cleaning of tracks is not done, dust and debris may jam the tracks and their rollers. So, use a clean cloth to clean all the parts before applying any garage door lubricant. 
Now, use a hardware lubricant to oil the springs, rollers, hinges, etc. It can be any common garage door lube like lithium grease or a proper spray lubricant like WD-40. Use an oil lubricant for the chain or belt drive. Clean the weather seal or weather stripping with a wet cloth and lukewarm water.
Next, using a screwdriver, tighten the loose hinges and springs to prevent them from falling off and causing the door to crash.
Cleaning and maintenance of  garage door panels and windows
Harsh environments with snow or rain, or the salt spray in coastal areas might cause steel garage doors to rust. Wood doors can warp or fade due to extreme heat.  Prevent your garage door panels from fading by cleaning them frequently. Use warm water, mild detergent, and wipe the surface of the door clean. A glass cleaner is best to wipe the glass windows. Use alkaline cleaners, clean water, and a soft cloth for the cleaning process.
Keeping your garage door clean and maintaining it regularly will only extend its lifespan. Garage door owners must call a garage door maintenance company like Thrifty Garage Door Repair for routine garage or annual garage tune-up for the best results.