Can Damaged Garage Door Panels be Replaced?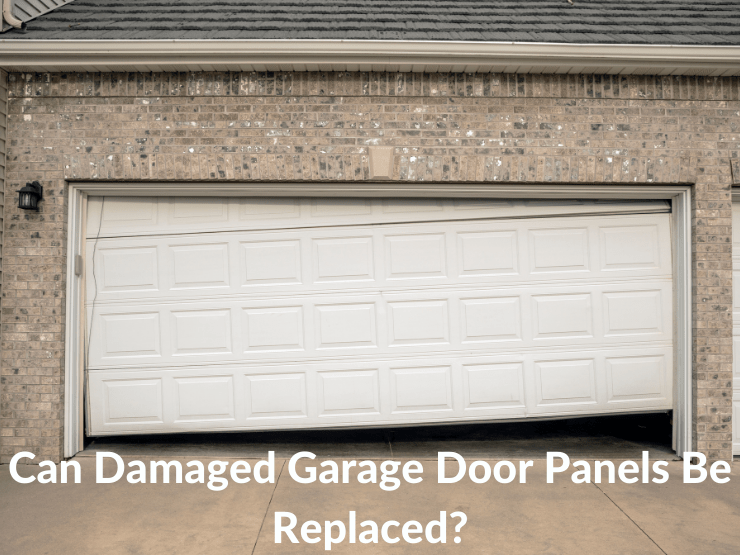 With time and repeated use, most things suffer wear and tear. Like garage door panels. Be it a wooden door or steel door, whatever be the garage door materials used,  the garage door panel gets affected by weather and rough use. 
Damaged panels cannot be just ignored as they affect the curb appeal of the garage door. Above all, the safety of the entire garage might be at risk due to these broken panels. So, garage door panel replacement should be the top priority for you. A garage expert will be able to help you decide whether you should repair or replace the panels. 
Be it single panel or double panels, replacement is possible at an affordable cost. All you need is to find a reliable garage door repair service company that will fit the replacement panels for you.
Factors that tell you that it is time to replace your garage door panels
Extinct garage door design
When your garage door is over 15 years old, it is definitely time to replace it. Its model would be outdated and you cannot get the spare parts to repair it. It is better to replace it with a modern door with replaceable panels.
Customized door designs
Certain homeowners opt for custom designs for their garage door like gallery, coachman, or canyon ridge resigns. Getting replacement panels for these unique designs is extremely difficult. 
Damage due to impact
Your panel might show signs of impact damage like dents or cracks or fissures. These affect the curb appeal of the door.
External panel damage
Due to climatic effects, your panels might be bent, warped, or sagging. Such garage door damages are not healthy for your garage door as there is a high risk of the door crashing at any time. Replace the panels at once by calling a skilled garage door repair technician. 
Paint damage
If the paint on your door is peeling or cracking, you can repaint it. But sometimes, the door is too old to undergo this process and hence deserves to be replaced. 
Factors to consider before garage panel replacement 
Availability of replacement panels
Garage panels might be hard to find if your door is of outdated design or if its design is custom made. Likewise, not all brands of garage door models are available everywhere.
Always check the availability of the panels before thinking of a replacement. 
Contact a garage door replacement company to see if they have these panels in stock. If not, it is wise to replace the entire door.
Number of panels to be replaced
Your garage door may consist of one single panel or section. Assess the number of garage sections needing replacement. If there are many sections to be replaced, their replacement cost might equal that of a new door. Consider replacement only if the number is limited to a couple of panels.
The extent of panel damage 
Sometimes when a garage door panel section is damaged, the other garage components also suffer. For instance, worn rollers or frayed cables might also accompany panel damage. in such cases, a panel replacement alone will not suffice as the other parts have to be replaced too.
Here, the right thing to do is to call a garage door expert to assess the extent of the damage. If the damage is extensive, replace the entire door.
Age of the door
If your door is well past its prime, there is no point in changing its panels. It is better to change the door itself.
Colour and condition of the panels 
If your panels are faded, and you replace just one of them, it will look very odd. The colours will not match and it will diminish the door's aesthetic appeal. The same is the case if many panels are worn out and your place is just one. Always take care to see that all the garage door replacement panels are uniform when you do the change.
Steps to be taken to replace garage door panels
Gather information on the panels
Any garage door repair company or dealer will want some details of the door. Collect details of the age of the door, its brand, model number, colour and the number of panels for replacement.
Contact a good garage door specialist
Only a specialized repairman can tell you what exactly is needed for your garage panels. Get a garage door inspection done by a professional service company before you start the job.
Garage door panel replacement is not a DIY job that you can do. Leave it an expert technician from Thrifty Garage Door Repair in Vancouver for the best results and least worries.