Garage Door Problems: When to Call a Professional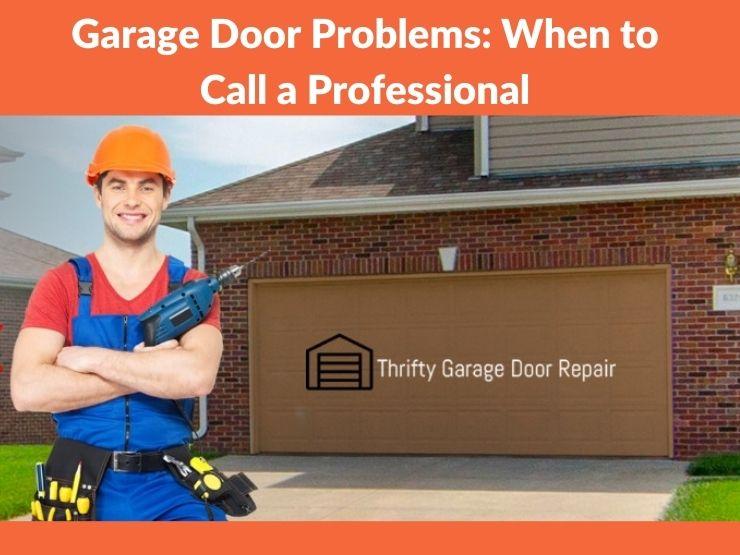 Garages are heavy and intricate structures. A garage door is a large piece of moving equipment on your property. Did you know that some doors can weigh more than 400 pounds? A common garage door weighs at least 130 pounds. The weights and complexity of garages make a broken garage dangerous. Repairing or replacing the components of the doors can be time-consuming and expensive. But ignoring even common issues can be a fatal mistake.
A faulty operating mechanism can raise many safety concerns. Are you ready to live with pinched fingers or broken bones to save the repair cost? A sturdy door safeguards your garage and property. Above all, it helps you with peace of mind. 
My garage door warranty has expired. Can I do some small garage door repairs on my own? If it is about cleaning off the sensors' dust, you may not need to rush to an expert. But if you suspect technical or electrical faults, best to call Vancouver garage door repair technicians. Without proper training, you may end up damaging the door further. Also, you can injure yourself while handling the electrical and heavy mechanical components. So what are the common issues with the doors? When should you call a professional garage technician?
Is a stuck garage frustrating you? Have you tried lubrication? Pulling or tugging will not help.
A stuck garage could be a result of misaligned tracks. The rollers on the door are like the wheels of your car. They should glide on the tracks. Experienced professionals can repair a slight misalignment. Are the rollers outside the tracks? Do you see a bend or a dent on the tracks? Depending on the severity, you may need to replace the tracks. Experienced technicians can advise on a suitable solution.
Is DIY repair possible for broken springs?
Springs do the difficult task of holding heavy garage doors. Torsion springs on the top of the door hold up the door correctly. Extension springs are on either side of the door. Broken garage door torsion or extension springs can disrupt the opening mechanism of the doors. Since a garage door, spring is critical, a garage door professional needs to repair broken springs. 
Garage door sensors wear out over time! When did you last check the garage door sensors?
People ignore the sensors as long as the doors open correctly. The stuck garage door is not the only outcome of bad garage door sensors. Is the LED light not turning red on opening the doors? What does the orange light on the garage door sensors say? A faulty garage door sensor can lead to dangerous accidents. Safety sensors reverse the closing of the doors if there are obstructions. Without an automatic safety reverse system, you can risk violating the safety laws. You can try realigning the garage door sensors by fixing the bracket. But garage door sensors are the most important safety feature of the doors. So it is a good practice to call a professional technician to get the sensors checked regularly.
Automatic garage doors make entry and exit hassle-free. But automatic doors can face technical issues.
A stuck garage can be due to many underlying reasons. If there are any obstructions or blockages, then you can quickly solve the issue. But if simple solutions are not helping, you may need to call a garage door expert. Garage door companies have trained professionals who can deal with technical issues. Sometimes automatic garage doors have problems due to transmitters and batteries.
Garages are complicated structures. So if you suspect an issue, call the Vancouver garage door repair professionals from Thrifty Garage Door Repair in Vancouver immediately. With regular maintenance, you can avoid expensive repairs.