What Constitutes the Ideal Garage Door?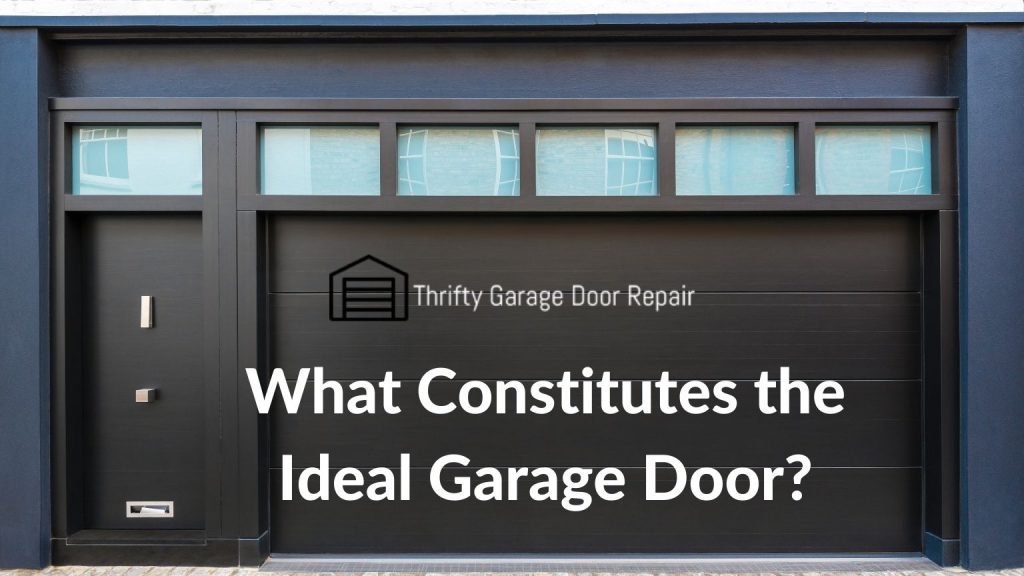 What is an ideal garage door?
If you are thinking of setting up a new garage or redoing your existing one, first focus on your garage door. Make sure that you install the ideal garage door.
But what is an ideal garage door and what are its features?
Garage doors are of many types but for a garage door to be considered ideal, it should possess the following features.
An ideal garage door is made of the strongest material
An ideal garage door should provide the best protection for your garage and home. For this, it should be made of the strongest material. Preferably steel garage doors.
Garage doors come in natural wood, aluminium, plastic, etc. Wood can warp, aluminium can dent, and plastic can break but steel does not warp, break, or dent easily. It has the highest durability and longest life. Steel is also malleable and rust-proof. That is why of all these materials, steel is the best.
When you buy a garage door from the garage door manufacturers, make sure it is of galvanized steel. The ideal garage door must have at least 2 layers of galvanized steel. Its top surface is primed and painted with a topcoat paint finish to prevent rusting or the top surface can be clad with a composite material.
An ideal garage door must have insulation
Having a steel door alone is not enough. For the garage door to be ideal, it should not only protect your home from theft but from external climate too and save on energy costs. In other words, it should maintain the internal temperature of the garage. Then, the garage door becomes energy-efficient in humid climates and winter seasons too.  
This is why an ideal garage door always has insulation. This can be in the form of an Intellicore layer to preserve the R-value of your garage door. The R-value is a measure of the insulative capacity of your garage door. It shows how well your garage door resists the conduction of heat. This means your ideal garage door must have a high R-value. You can achieve this with multi-core insulation.
An ideal garage door has durable components
A garage door is not a mere sheet of metal but has to perform a reliable operation thousands of times in a month. It has various parts like springs, rollers, tracks, cables, pulleys, etc. For your garage door to last long, all these parts must be durable. Make sure you get a garage door that has durable parts, solid hardware and safety features. Check the door thoroughly before you buy and fix it. 
All the spare parts of the ideal garage door are easily available
One way to ascertain this is by buying a branded garage door. A branded garage door not only has robust parts, but all its spare parts are easily available. Supermarkets and hardware stores have the spare parts of all leading garage door brands. You also get different garage door collections and garage door styles. 
An ideal garage door comes in the right size
Everyone wants to be innovative to get the most of the living space or energy efficiency. However, one cannot experiment too much with your garage door since it must also conform to building codes. If you make your garage door of unusual sizes, getting the spares may be difficult. Normal garage door sizes are 8'x7' or 9'x7' for a single garage door. For a double garage door, the size is 16'x7'.
An ideal garage door has the best design & quiet operation
When it comes to garage door designs, you can innovate if you have customization options to enhance the curb appeal. You can go for vertical or horizontal doors or single panel or sectional doors. You can have garage doors with or without windows. But whatever design you choose, do not compromise on the garage door safety. Your garage doors must also work during a power outage so the built-in battery backup is not an option but essential.
An ideal garage door has the best security
The security aspect is the most important feature of your garage door. If your garage door has windows or panels, make sure they have foolproof locks.
An ideal garage door must have the best locking system. The garage door lock can be a traditional deadbolt or an electronic lock. But make sure that it is tamper and theft-proof. 
Your smart garage door may come fitted with alarms, cameras, safety sensors, etc. Fix external and internal floodlights to your garage door. Equip your garage door with all gadgets to make it totally safe from theft or break-ins.
An ideal garage door is the best in design, material, and security. Get your garage door from a reputed garage door company always. Call Thrifty Garage Door Repair in Vancouver, CA for your next garage door installation requirement.