Things You Shouldn't Store In Your Garage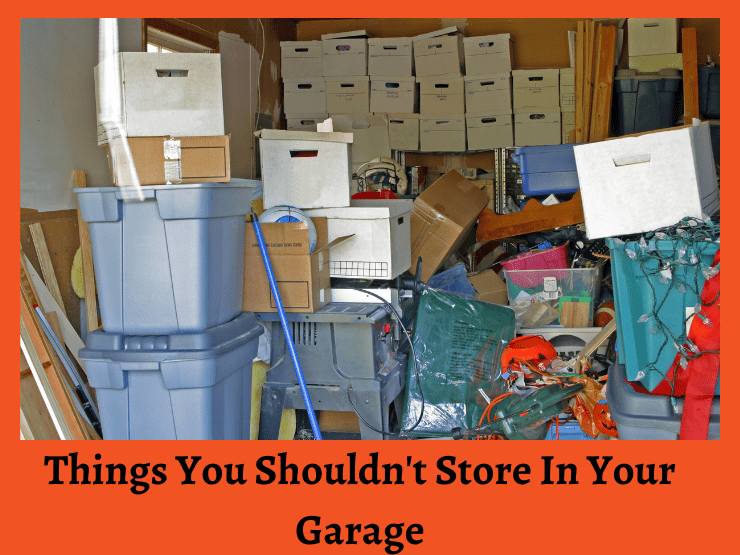 Many of us use our garage not just for parking vehicles but as a space for storage. There is nothing wrong with this except that you should be cautious of the things you store in the garage space.
One must avoid storing dangerous materials like chemicals or hazardous materials like gasoline or firewood as these could easily cause a fire. Hoarding food items in the garage is also not advisable as this could attract rodents. Also, the extreme heat might cause these to rot and decay.
It is better to double-check what items you can keep in your garage before storing them. Follow the expert advice of our garage door specialist and you should be fine.
9 Common items that should not be stored in garage space
Propane tank and gasoline storage
Who does not love to have a barbecue outdoors? Most of us do and that is why we keep a propane tank or two in the garage along with the barbecue items like the grill. This could pose a very high safety risk if the tank leaks. A leak could be caused by a hole in the tank or by the valve not being closed properly. Either of these instances is dangerous to your life and property as they could cause a fire. Avoid storing propane tanks in the garage. Store them outside in a secure place.
Similarly, storing gasoline in the garage for an emergency is not a wise idea as gasoline is inflammable. Any leak can cause spontaneous combustion within minutes. 
Pet food and canned food
You might think of storing food items in the garage so that you can help yourself to a delicious snack when you feel like it. But, the extreme heat can cause these fresh food items to spoil causing a foul stench in the garage. Even canned foods can perish easily due to the internal heat of the garage. It is important to keep food cool at all times and this is not possible in an insulated garage where the temperature is warm inside the garage. During extreme cold climates, canned foods freeze making them unusable. Canned foods have a shorter shelf life and should not be stored in the garage.
Pet foods are a no-no as rodents can enter through the crawl spaces of the garage and ravage their cardboard packaging. 
Important documents
Avoid keeping vital documents like birth certificates, passports, etc in the garage for safekeeping. Any small accident like water seepage or fire can cause irreparable damage. Always keep digital copies of these vital documents and store them in a locker or safe.
Cloth materials and bedding
Most of us dump extra cloth materials, winter clothing, and sleeping bags in the garage during spring cleaning. By doing this, you are putting your clothes and bedding at risk from rodents.
Paper items 
As mentioned earlier, paper products and paper-based products are at high risk of damage when placed in the garage. Avoid keeping antique photos or books from childhood in the garage if you treasure them.
Paint cans
The one thing almost all garages have are cans of paint. We leave the leftover paint cans in the garage for reuse. Extreme temperatures can affect the paint formulas and spoil them. Check the storage temperature and conditions for leftover paint before storing them in the garage.
Electronic items
The garage is often the dumping yard for our old electronic equipment like PCs, laptops, tablets, batteries, etc. We even keep CDs of family photos and gaming consoles in the garage. Temperature signs can cause these to malfunction.
Wooden furniture
Wooden furniture can warp due to temperature fluctuations in the garage. So, think twice before storing your patio furniture in the garage during the winter
Refrigerator
The purpose of a refrigerator is to keep food cold at all times. By keeping a refrigerator in a garage, you will be increasing your electricity consumption and subsequently the bill.
Using the garage as storage space is not a wrong thing but you must know what to store and what not to. Consult a good Vancouver garage door agency for making your garage a climate-controlled unit. Pick up some clever storage tricks from your agent regarding garage storage.