3 Most Common Garage Door Injuries And How To Avoid Them?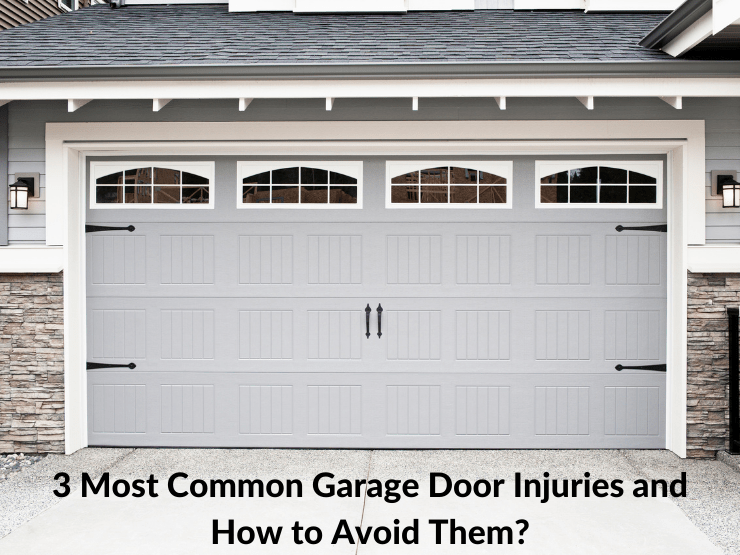 After a careful analysis of statistical reports, the Canadian Hospitals Injury Reporting and Prevention Program – CHIRP – has concluded thus-
"77% of the garage door accidents occur in one's own home."
This statement is a cause for concern. Every one of us wants a safe garage. None of us want any garage door accidents to ruin our peace of mind.
To prevent any garage door issues from cropping up often, we must arrange for professional garage door experts to perform regular and proper maintenance of our garage doors.
Before doing this, let us make a list of the common garage door accidents that can occur and find ways to prevent them.
Common Garage Door Injuries 
Garage door crush accidents
According to the CHIRP,  nearly 40% of garage accidents are due to the door falling. This type of accident can be fatal as it might cause brain or spinal cord injury. Such an accident can cause a loss of consciousness or even life. 
Automatic garage doors are often prone to such accidents. These mishaps happen when there is a problem with the garage door opener. Call a garage door repair technician and inspect your garage door from time to time.
Operating a heavy or rigid garage door can cause damage to the rotator cuff.
When you try to pull or yank your garage door open, you may damage the muscles of your shoulder damaging your rotator cuff. Handling the solid hardware of your garage door may also cause this common injury and it may need surgical repair if left untreated. 
Avoid lifting the garage door manually if you want to prevent such damage to your shoulder. Install an automatic garage door and enlist a garage door repair professional for its annual maintenance.
35% of garage accidents involve pinching or crushing of the fingers. Broken springs or a damaged garage door track can cause the door to pinch your fingers with its sudden movement.
This common injury to the fingers can be prevented by regular garage door maintenance.
Now that we have seen the common accidents or injuries a garage door can cause, let us look at ways to prevent them.
Easy Ways To Prevent Garage Door Accidents
Smart Automatic Garage Controller
Call a garage door expert and install a smart automatic garage door controller with safety sensors. The use of safety sensors and motion detectors prevents the door from closing when anyone is in its path. This prevents most crush accidents. 
You can try the Chamberlain MyQ Smart Garage Hub which allows you to use your smartphone as the garage door remote. Now, you can operate the door from anywhere using your mobile. 
In addition, you can add a Liftmaster Smart Garage Camera for better monitoring and safety.
Since 1991, an auto-reverse mechanism has been made compulsory for all garage doors. This mechanism acts as a safety device as it has built-in sensors that detect the presence of any obstruction in the path of the door. On sensing the obstacle, the door reverses its direction and stops closing, thus preventing any accident. 
Regular Garage Door Maintenance
Proper maintenance by a garage professional can prevent unwanted and unintentional injuries. An experienced garage door expert will check the garage door springs, hinges, rollers, tracks, cables, and any additional hardware for damage. Such a thorough inspection will ensure that no accidents occur due to faulty components of the door.
Garage door accidents can be painful and even fatal. Prevent them from occurring by taking the necessary precautions and calling a garage door professional for periodic maintenance of your door. If you suspect a problem, contact the Vancouver garage door repair experts at Thrifty Garage Door Repair right away. Regular maintenance might help you prevent expensive repairs.