Thrifty Garage Door Repair is a professional garage door repair company serving Vancouver BC with over a decade of experience. We are one of the top-rated garage door companies delivering exceptional customer satisfaction and same-day service for residences and commercial businesses in the Greater Vancouver area. We provide both unscheduled and scheduled garage door repair services to Vancouver residents. We also offer emergency garage door repair as problems can occur at any time. 
Coquitlam is a city in the Lower Mainland of British Columbia, Canada. Mainly suburban, Coquitlam is the sixth-largest city in the province, with a population of 139,284 in 2016, and one of the 21 municipalities comprising Metro Vancouver. The mayor is Richard Stewart.
Garage Door Repair Coquitlam BC
Are the hinges ruined? Are the tracks misaligned? Is the panel damaged? Is the door making loud noise while opening or closing? Does the door reverse? Is one of the sensors broken? Whatever the issue is, once you call us we will not let y
Are you searching online for a dependable garage door service in Coquitlam BC? Thrifty Garage Doors specializes in overhead door repair of any make or model. Whether you want to replace worn-out rollers, broken torsion springs, ruined hinges, or tattered cables, we are the expert team to call. In fact, we can assist you with any concerns you may have with your overhead door.
We've repaired factually thousands of overhead doors over the years. We regularly replace rollers, torsion springs, sensors, hinges and all other parts related to your garage door. If you ask a neighbour or friend who performed their garage door repair in Coquitlam BC, most likely you hear the name Thrifty Garage Doors. Maybe, you've seen us around. You certainly can count on our years of experience and expertise in the industry when it comes to safe and reliable garage door installation, garage door repair and garage door maintenance.
We repair garage doors regardless of the issue
Are the hinges ruined? Are the tracks misaligned? Is the panel damaged? Is the door making loud noise while opening or closing? Does the door reverse? Is one of the sensors broken? Whatever the issue is, once you call us we will not let you suffer the consequences of a malfunctioning garage door. Our Vancouver garage door repair specialists in Coquitlam BC are trained and equipped with all the latest tools to handle any kind of garage door-related issue. Our vast experience allows us to work with garage doors old and new. Furthermore, our competitive prices make garage door repair in your home or business more than affordable prices.
The Poirier Street area was the city's original recreational centre with the Coquitlam Sports Centre, Chimo Aquatic and Fitness Centre, and sports fields located there, while City Hall was previously located further south in Maillardville. Coquitlam's urban development area has again shifted to Burquitlam and secondly Burke Mountain. The Burke Mountain area plan is now divided into 4 new neighbourhood plans: Lower Hyde Creek Neighbourhood, Upper Hyde Creek Neighbourhood, Partington Creek, and Smiling Creek.
Coquitlam's geographic shape can be thought of as a tilted hourglass, with two larger parcels of land with a smaller central section connecting them.
Same-Day Garage Door Repair in Coquitlam BC
Some people don't understand the danger of having a damaged or broken overhead door. It doesn't just increase the feasibility of vandalism but also puts the lives of people living in your business premises or home in real danger. Emergency garage door repair is required in order to avoid having risks prompted by the door not functioning properly or breaking down. This is why we offer same-day or emergency garage door repair in Coquitlam BC whenever you require.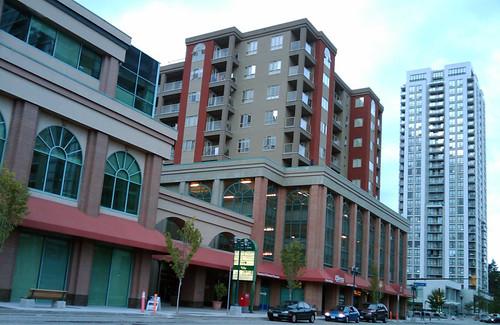 Some but not all of the repair services we provide in Coquitlam
Torsion spring replacement
Garage door cable repair and replacement service
Off-balance door repair
Accidental damage repair
Garage door opener repair
Garage door spring repair
Garage door opener chain adjustment
Garage opener installation services
Sidetracks repair/replacement
Broken cable/broken springs
Coquitlam is served by TransLink, which is responsible for both public transit and major roads.
The city has four SkyTrain stations on the Millennium Line that are a part of the 10.9 km long Evergreen Extension. With a project cost of $1.4 billion, the line runs from the Coquitlam City Centre area, through Coquitlam Central Station and into Port Moody, re-entering Coquitlam on North Road and finally joining the existing Millennium Line at Lougheed Town Centre.
There is regular bus service on numerous lines running throughout the city and connecting it to other municipalities in Metro Vancouver, with a major exchange at Coquitlam Central Station.
If you're looking for a professional garage door repair company in Vancouver, Thrifty Garage Door Repair is here to help. We offer everything from unscheduled and scheduled repairs to emergency service so that we can always be there when you need us most. Qualified garage door technicians in Thrifty Garage Door Repair help you with all your garage needs.  If you're looking for more information about garage door repair in Vancouver please give us a call today (604) 901-7676.